We Specialize in Standard and Custom Metal Buildings
Post Frame Construction - Built how you want it backed by decades of experience!
The right post frame structure depends on your needs, the right design and an experienced builder. At Classic Buildings we focus on all three all the time.
We know that pre-designed metal building packages are a great idea for the building company to sell but seldom in the best interests of the owner. That's why, at no extra charge, Classic Buildings custom designs each and every building we build. Our in-house trained design team using the latest engineering software will design your building the way you need it.
Whether it's a pole barn for your farm, a metal commercial building for your business or a storage building for your home, we will build the building fit for any purpose and any budget. And, in addition to our proven standard features we offer a list of appealing options available to you.
Post Frame Building Standard Features
Every one of our standard features comes from decades of experience and is of the highest quality available. We have learned that it's these features that make the difference in successful design and construction adding many years to the life of your building.
Concrete Pier Foundation
Laminated Columns w/ Steel Mounting Plates
Treated Skirtboards and Sill Plates
2 X 6 Horizontal (Bookshelf) Wall Girts Placed 2 Feet on Center
2 X 6 Roof Purlins Placed 2 Feet on Center w/Metal Purlin Hangers
Engineered Truss System
Painted Metal w/ 30-Year Non-prorated Parts & Labor Warranty
All Metal is Screwed as Opposed to Nailed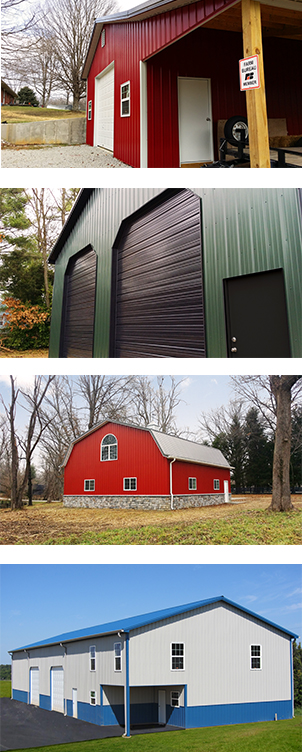 Metal Buildings Optional Features
We customize each post frame building to meet your needs and building requirements. Here are a few possible options we can include as an add-on feature.
Gutters and Downspouts
Sidewall / Endwall Overhangs
6 Inch Insulation
Shingled Roof
Cedar, Brick or Vinyle Siding Sidewalls
Sidelights and Skylights
Large Variety of Windows & Doors
Attractive Interior Designs
KYNAR 500 Paint
We also offer a variety of metal panel colors. See our interactive Color Picker to choose some color options.
Because of all the possibilities these days in post frame constructed buildings a few minutes discussing the purpose of your building and the elements that are most important to you will give us the ability to put together some suitable possibilities. There are just too many to list.
Classic Buildings can help you decide what the best and most attractive solution is for you before you have committed to using our services. We just want the opportunity to show you why we are your best option. Then it's up to you to decide.
Contact us today for a free no obligation consultation and quote. We would love the opportunity to earn your trust and your business.