Why Classic Buildings Offers the Best Value... Period!
Post Frame Metal Pole Barn Type Buildings at the Right Price
We began building Pole Barns in 1982 and have positioned ourselves in the post frame construction industry better than anyone in Southern Indiana and Louisville area ...guaranteed!
Classic Buildings has been successful in this industry because of the quality of the buildings and the customer service we provide at the best prices available. We know that this is a sizeable investment and we promise to treat you as if you were our only customer.
But price always being a concern to all of our customers, as it no doubt should be, we have remained the top post- frame and pole barn builders in the Louisville and Southern Indiana region also because of our consistent efforts to do everything possible to offer you the same quality at the best price possible.
Getting started in 1982, like everyone else building post frame buildings, we had to hire third party contractors to handle aspects such as the concrete work as well as design and build the roof trusses we needed for every building. Also, being a much smaller business we weren't purchasing enough materials to demand the best prices possible making it difficult to even be competitive. Anyone could buy the same materials at the same prices we could from the local do-it-yourself center. But we survived because of the quality of our buildings and our attention to customer service.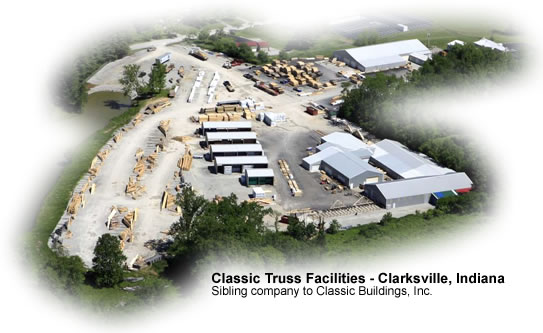 Classic Buildings Propietary Truss PlantClassic Buildings has come a long way since 1982. In order to continue with our mission to provide the best post frame buildings at the best price possible the need for a reliable truss manufacturer at the best possible price was essential. Hence, Classic Truss was born.
Classic Truss is now an industry leader in wood truss manufacturing in the region and is the top wall panel supplier within our market selling millions of dollars of product each year.
Also, for similar reasons creating our own concrete crews to handle all of our concrete work also gives us an advantage not only in cost savings but quality control.
And because of what we spend on lumber each year our buyers now get the best prices which allows us to offer the same quality buildings we always have to you at a lower price. In many cases we even buy our lumber for less than what your favorite do-it-yourself home centers buy their lumber for. And don't forget we are completely locally owned and operated!
So, when deciding on who's going to handle your post frame project in the Southern Indiana and Louisville area you should seriously consider using Classic Buildings. We will build the building you want, using the proven construction methods your building needs, at a price you can afford.